Umbrella companies offer a "hassle-free" business structure for contractors to operate under.The main purpose of the umbrella company is to handle all administration associated with contracting, primarily the invoicing, taxation and payroll aspects.
An umbrella company is an intermediary between a contractor and the contractor's clients. The contractor's client pays the umbrella company. The umbrella company then take care of all of the tax deductions and transfer the remaining balance to the contractor.
How does it work?
You work for your clients as normal. At the end of the week or month, you submit your hours and expenses to the umbrella company. Your umbrella company will then take care of invoicing your client and collecting the payment. Lastly they will pay you your salary and expenses reimbursements and will pay the relevant income taxes, PAYE, PRSI and USC to the taxman for you.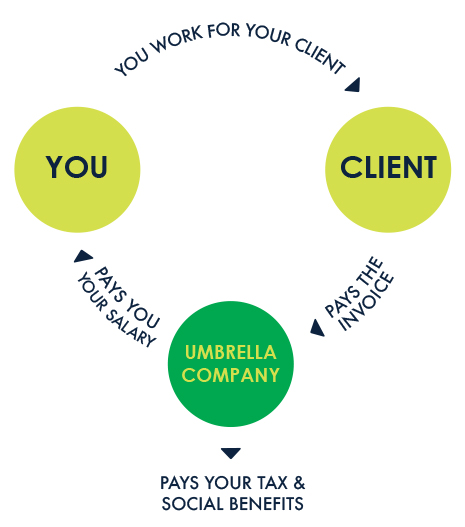 Who uses Umbrella Companies?
Umbrella companies tend to be used by individuals on short-term contracts in between permanent roles or by those long-term contractors who do not want the added workload of running their own Limited Company. Umbrella companies enable contractors to retain their employee status under the social welfare system. This means you can continue to pay Class A PRSI which entitle you to the same social welfare protections and benefits as ordinary employees.
Working under an umbrella company gives you the same feel as being a normal employee of a company. You will receive weekly or monthly payslips and an End of Year Statement (previously known as a P60) at the end of the year. Umbrella companies can also complete salary certificates when you need them for mortgage or loan applications.
Why use an Umbrella Company?
The main advantages of using an umbrella company are:
Allows you to claim the cost of most business expenses to reduce your payroll taxes
Avoids the time involved in running your own limited company
No need to be involved in dealing with VAT returns, payroll runs, company accounts and tax return preparation
No need to take out your own business insurance cover
Avoids the process of having to form a limited company and then arranging for it to be dissolved; this is a particular benefit to short term contractors
Fenero are Personal Tax Experts specialising in tax services to contractors and freelancers. If you need advice or assistance with tax or payment management solutions for contractors, get in touch!